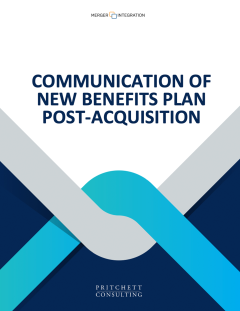 Register 2 months in advance and save $1,000.
Content
Communication of New Benefits Plan
Talking Points
Guidance
Vehicles
Assumptions
Timeline for Communicating Benefits Program

Communication of New Benefits Plan
This document provides a plan for effectively communicating the changes to our health insurance program for employees. The new program for the Acquiree, which is the Acquirer's plan, is a leaner one that better matches industry norms. We anticipate the Acquiree's people feeling that they are losing something in this transition. To help people accept this loss, we'll do a thorough job of explaining the business rationale for the company's decision.
The general reaction anticipated is that most stakeholders will "grumble and go on." The HR/Benefits staff has been laying the groundwork for months by telling employees to prepare for a significant change in coverage. The new program may be better than what people are expecting, so a "not as bad as I thought" reaction could support rapid acceptance of the changes.
Talking Points
Managers and supervisors will be faced with addressing employees' questions and concerns related to the new program. To assist them in this role, we offer these talking points:
Our employees have enjoyed a plan that is better than industry standards for many years
The company chose not to make incremental changes over the last few years and has held off revising our benefit plan despite rising costs
We are now part of our Acquirer. We no longer have the luxury of having high-cost benefit programs that are not consistent with the rest of our industry
Now that the new company ownership is in place, it is time to align our company's health insurance spending with others in our industry
In our process to select a new benefits plan, we participated in several surveys to learn what other companies were doing to address health insurance; the new plan, while it costs a little more, still provides us with excellent health insurance coverage
We are not the only company or group of employees impacted by this issue: Rising healthcare costs are a problem across all industries, and for organizations of all sizes
It is a reality of today's environment that individual employees are taking on more of the financial responsibility for healthcare
As a division of our Acquirer, we will continue our commitment to providing a competitive benefits package; our benefits plans are as good or better than what would be offered by other employers in our industry
Our medical provider networks will remain the same, so employees shouldn't have to change doctors unless they choose to change plans
Any contributions towards a deductible, and for your flexible spending account, will be transferred to the new plan
As always, we will make protecting the confidentiality of employees' medical information a high priority
We will be seeking to reduce our entire cost base; the benefits initiative is one of many strategies aimed at improving the company's cost performance.
Employees should be prepared for future changes to the benefits plans; as the costs of healthcare continue to rise, the Acquirer, like other employers will increasingly share these costs with employees
Since employees are paying a greater percentage of their costs, they now have an increased incentive to be selective about the medical services they use ...