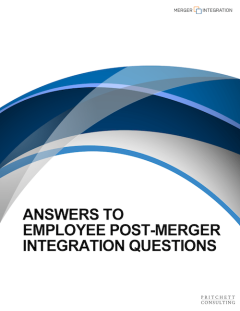 Register 2 months in advance and save $1,000.
Answers to 43 common frequently asked questions by employees on the front-end of a post-merger integration.
Will offices or other facilities be closed?
For the time being there will be no changes and we will continue to go to market as we have in the past. We will begin immediately to get to know each other and develop plans to combine our businesses in the most effective way. As we make business decisions over time, we'll work closely with our employees, customers and suppliers to ensure smooth transitions.
2. Will I lose my job ...