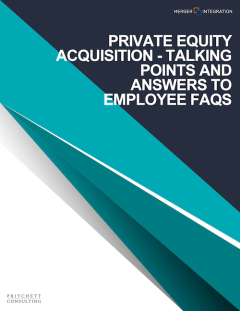 Register 2 months in advance and save $1,000.
Content
Talking Points for Executives at Employee Meetings
Answers to Employee FAQs
Excerpt from Talking Points for Executives at Employee Meetings
Welcome everyone! It's a pleasure to meet with you today. We've invited you here to celebrate the announcement of our acquisition by a highly regarded, successful private equity firm,____________.

Our acquirer provides management and oversight for the multiple businesses in their portfolio, which will soon include our company.

I'd like to remind you that the deal has only been announced. It has not closed. We anticipate closing the deal by year-end, but it's not final yet. We'll let you know as soon as the contract is signed.

We've had a lot of distractions over the past several months while waiting for the business to be sold. I am of proud of you for the patience and focus you've demonstrated.

We're keeping our company name and brand. Our sterling reputation for quality products and excellent service will help us retain existing customers and acquire new ones.

The new CEO, a former CEO of a highly successful business in our industry, has been chosen by our Acquirer. Our current President and the rest of the leadership team will remain in place. We are keeping the same organizational structure and the same culture. That means very little disruption to the way we serve our customers.

There will be minimal relocations required. That means fewer people will have to disrupt their personal and family lives to move to different locations.

Everyone will keep their current job titles and compensation structure. That will give us the stability to stay focused on the business.

There will be change as a result of our new ownership. But the truth is, most of these changes we would have made even without a change in ownership. The challenge is to make changes before the marketplace forces us to make them.

Our business has great potential. But it will require financial discipline, operational rigor, and execution excellence for us to realize it. Let's work together to reach even higher levels of success ...