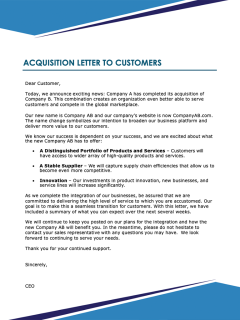 Register 2 months in advance and save $1,000.
Sample Letter (or Email) Announcing Sale to Customers
Dear Customer,
Today, we announce exciting news: Company A has completed its acquisition of Company B. This combination creates an organization even better able to serve customers and compete in the global marketplace.
Our new name is Company AB and our company's website is now CompanyAB.com. The name change symbolizes our intention to broader our business platform and deliver more value to our customers.
We know our success is dependent on your success, and we are excited about what the new Company AB has to offer:
A Distinguished Portfolio of Products and Services – Customers will have access to wider array of high-quality products and services.
A Stable Supplier – We will capture supply chain efficiencies that allow us to become even more competitive...

Download file to see entire letter plus one page attachment.