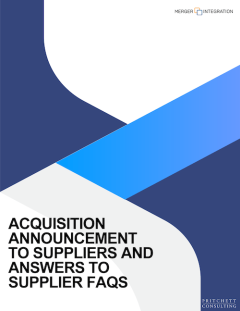 Register 2 months in advance and save $1,000.
Content
Acquisition Announcement to Suppliers
Answers to Supplier FAQs
Excerpt from Answers to Supplier FAQs
What is the purpose for Global Procurement?
To provide the largest volume opportunity for our supplier business partners. We believe that with larger volumes the supply base's manufacturing cost will be lower, thereby reducing our cost.

What are the short and long-term implications?
Short Term - We will be focused on reducing our supply base to maximize the volume for selected suppliers. Longer Term - We will work to integrate more with our smaller supply base, and to learn how to combine our resources with those of our suppliers. This will include logistics, engineering and sub-assembly, all working together to reduce our "time to market".

Will the global companies be held to the same standards?
There will be only one standard worldwide for our business…Our customers are becoming global so sourcing needs to be global. That's why there must be one standard worldwide.

Will there be a centralized/combined Procurement Group?
Our sourcing will be regional; The Americans, Europe, and Asia. However, there maybe some commodities that will be sourced globally, but that decision has not been made yet.

Will there be a preference of one division's supplier over another's?
No, we will select our suppliers based on the standards for delivery, quality, costs and flexibility across regions.

Will existing Strategic Alliances be affected?
Since the basis for strategic alliances is relationships and performance, we will plan to continue those alliances as long as the standard set in question 5 are met.

Will existing suppliers be required to set up a global distribution center?
Distribution will be a consideration. However, a global distribution center is not a requirement, and in some cases probably will not make sense.

Will there be a group supplier reliability plan or separate per facility?
We intend to deliver the highest reliability products in our market. The reliability plan for suppliers will be consistent worldwide, and it will, and must, take into consideration both the commodity and the product

Who's going to make sourcing decisions?
The purchasing/procurement integration team will be evaluating issues on a case by case basis and will be looking for what results in the best value for our combined company.

Who do I contact?
Suppliers should continue to communicate through their current procurement manager who is part of the integration process.

How about my contract? ...