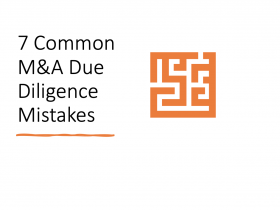 Register 2 months in advance and save $1,000.
Being Bashful

There are no dumb questions.
You may be the only person looking at a document – if you don't raise the issue, nobody may ever know about it.

Losing interest

Diligence can be monotonous.
It is, however, the key to helping negotiate representations, warranties, indemnities, and other key items in an M&A context.

Not understanding the client's business

If you don't understand their business, you will have difficulty focusing on the key issues for that client.

Failing to communicate

Communicate with your team to ensure all materials are reviewed.
Communicate with the other side to obtain or clarify information.
Keep a record of what has been sent to the other side in the event of a dispute.

Losing your resolve

Some clients (or their counter-parties) will not welcome you to conduct diligence. It can be a highly intrusive situation for their business. Some are better than others about welcoming (or tolerating) your presence.
Determine the point person at the Company.
Be courteous; Understand their availability. Recognize that he/she may have ongoing obligations in addition to responding to you.
Underwriters want to sell something. Everyone wants to say something – but is IT supportable? Sometimes you'll have to say no – the statement is not supportable!

Losing track of the transaction

Keep track of changes to structure or other changes in the transaction.
Failure to keep track means you will likely miss critical issues. Since transactions sometimes take several months, it's important to keep your diligence obligations in mind as the transaction evolves.

Not being organized

Keep careful track about what has been provided to you (or what you have provided to others).
Keep a list of what needs to be addressed or resolved.
Maintain a list of open items.
Track next steps.
If you don't maintain these control measures, you will have trouble identifying what has been provided, what has been reviewed and what still needs to be reviewed.

Slide titles:

7 Common M&A Due Diligence Mistakes
Being Bashful & Losing interest

Not understanding the client's business & Failing to communicate

Losing your resolve
Losing track of the transaction

Not being organized