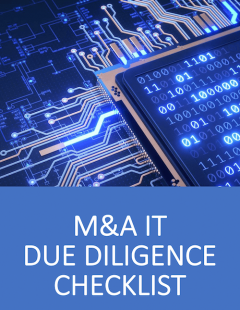 Register 2 months in advance and save $1,000.
Excerpt from IT Due Diligence Checklist
Systems for which management is dissatisfied. Corrective measures taken or planned
Employees with exceptional skills in writing software, developing systems, or troubleshooting problems
Systems manual maintained, up to date, and followed
List of all information systems utilizing computers and their function in the business. Type of machines, software, their age, number, and location of units
Backup and disaster recovery procedures and programs
Level of difficulty anticipated to integrate the company's databases into the buyer's systems
Policy on the issuance of mobile IT equipment to employees. List of all mobile equipment and to whom it is issued
New information systems scheduled to be added or to replace existing systems
Systems that use third-party software and custom-built solutions. Third-party systems under maintenance contracts
IT employees responsible for system support and security. Security systems and practices are in place to protect the systems ...
Related Content