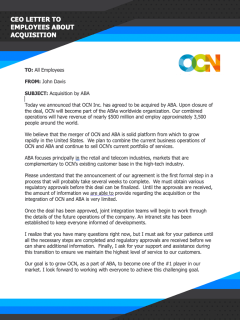 Register 2 months in advance and save $1,000.
Example of a CEO Letter to Employees Announcing Acquisition in a Downloadable, Easy-to-Customize Word File
TO: All Employees
FROM: CEO
SUBJECT: Acquisition by ABA
Today we announced that OCN Inc. has agreed to be acquired by ABA. Upon closure of the deal, OCN will become part of the ABAs worldwide organization. Our combined operations will have revenue of nearly $500 million and employ approximately 3,500 people around the world.
We believe that the merger of OCN and ABA is solid platform from which to grow rapidly in the United States. We plan to combine the current business operations of OCN and ABA and continue to sell OCN's current portfolio of services.
ABA focuses principally in the retail and telecom industries, markets that are complementary to OCN's existing customer base in the high-tech industry ...