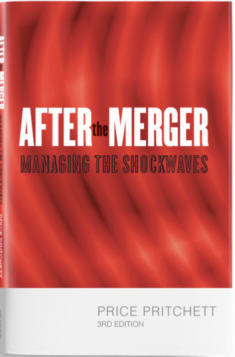 Register 2 months in advance and save $1,000.
After the Merger: Managing the Shockwaves, 3rd Edition
Author: Price Pritchett, Ph.D.
Named "one of the best business books of the year" by Library Journal.
After the Merger provides a clear look at the tasks and problems of post-merger integration. It is first book ever written on merger integration strategy.
This hardbound volume provides a level of detail that will help your team navigate the many potential pitfalls of the integration process. After the Merger is packed with proven strategies that allow you to turn the instability created by a merger or acquisition to your advantage.
Specific topics explored include:
6 errors that managers make again and again—and how you can avoid them
Best practices for handling the 4 major categories of a merger—everything from "rescue" to "raid"
Ways to defuse cultural time bombs that can destroy mergers
Separate checklists for managers in both the acquiring and target companies
Time-saving checklists for executives on both sides
Importance of conducting a disciplined Merger Talent Audit