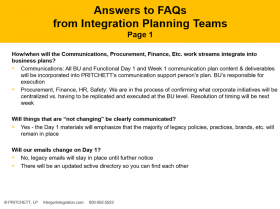 Register 2 months in advance and save $1,000.
Answers to FAQs
How/when will the Communications, Procurement, Finance, Etc. work streams integrate into business plans?
Communications: All BU and Functional Day 1 and Week 1 communication plan content & deliverables will be incorporated into PRITCHETT's communication support person's plan. BU's responsible for execution
Procurement, Finance, HR, Safety: We are in the process of confirming what corporate initiatives will be centralized vs. having to be replicated and executed at the BU level. Resolution of timing will be next week
Will things that are "not changing" be clearly communicated?
Yes - the Day 1 materials will emphasize that the majority of legacy policies, practices, brands, etc. will remain in place
Will our emails change on Day 1?
No, legacy emails will stay in place until further notice
There will be an updated active directory so you can find each other
If I have assigned another BU or Function to one of my initiatives what should I do?
Provide detail in the Issues/Risks/Dependencies field
Reach out to the appropriate Lead and review the requirements to ensure they have incorporated into their plan as well
Are there any mandatory time parameters I should use for organizational structuring initiatives?
Leadership team announcements & communication: Day 1
Completion of organizational structure and staffing: Target by Day 90
Can I assign 2 people to initiatives?
You can include 2 names in the "assigned to" box, but you need to confirm who is responsible for plan updates & task completion ...
I see timing selections for 2Q21, 3Q21, etc … are those calendar years or fiscal?
Calendar. Acquirer and Acquired Co. have different fiscal years and it would be confusing to use them both for the purposes of integration planning...
Will all employees need to sign an updated code of conduct document on Day 1?
Yes (and we will communicate the process to secure these over the First 30 Days)...
Related Presentations