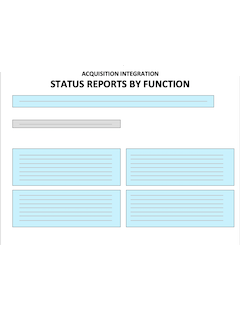 Register 2 months in advance and save $1,000.
Status Reports
Finance
IT
Legal
Manufacturing
HR
Sales
Work Stream Status: Integration – Finance
Overall Progress
• Conducted two-day face to face workshop to complete/align financial reporting requirements on both sides.
• Overview on insurance policy completed.
• Integration work on financial system underway.
Achievements past 2 weeks
• Financial system integration - build up on new legal entities in development environment underway. Test scripts in progress.
• Conducted face to face workshop this week. Further progress made on financial close and reporting requirements (Acquirer and Acquired Co. data entry tool for close), and finalized GAAP differences (& PPA adjustments), as well as management reporting, and introduction of Acquired Co. global tax tool. Products hierarchy mapping in progress.
• Insurance review completed by Acquired Co. team and shared with Acquirer HQ.
• Started a summary of sensitive information. Plan in place to separate info/data relating to Australia for confidentiality concerns.
• Initial review of existing Acquirer limits of authority (LOA) completed.
• NewCo budget in progress.
Key Deliverables
• Complete building of legal entities for NewCo in system development environment. Revise workplan timeline to incorporate testing and training/knowledge transfer.
• Follow up on action points from February workshop in ongoing weekly calls on financial reporting and management reporting requirements (incl. NewCo budget).
• Subsequent review of limits of authority.
• To continue to build separate folder for sensitive information.
Key Issues
Reporting requirements to Spain may commence immediately after close – 30 days earlier than expected. Readiness for this will be challenging
Key Risks
• Readiness for reporting to Acquired Co..
• Dealing with historical data on UK business – particularly operational information. Need to balance practicality vs legal / commercial requirements.