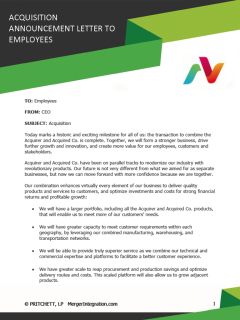 Register 2 months in advance and save $1,000.
Announcement Letter Example
TO: Employees
FROM: CEO
SUBJECT: Acquisition
Today marks a historic and exciting milestone for all of us: the transaction to combine the Acquirer and Acquired Co. is complete. Together, we will form a stronger business, drive further growth and innovation, and create more value for our employees, customers and stakeholders.
Acquirer and Acquired Co. have been on parallel tracks to modernize our industry with revolutionary products. Our future is not very different from what we aimed for as separate businesses, but now we can move forward with more confidence because we are together.
Our combination enhances virtually every element of our business to deliver quality products and services to customers, and optimize investments and costs for strong financial returns and profitable growth:
We will have a larger portfolio, including all the Acquirer and Acquired Co. products, that will enable us to meet more of our customers' needs.
We will have greater capacity to meet customer requirements within each geography, by leveraging our combined manufacturing, warehousing, and transportation networks.
We will be able to provide truly superior service as we combine our technical and commercial expertise and platforms to facilitate a better customer experience
We have greater scale to reap procurement and production savings and optimize delivery routes and costs. This scaled platform will also allow us to grow adjacent products...